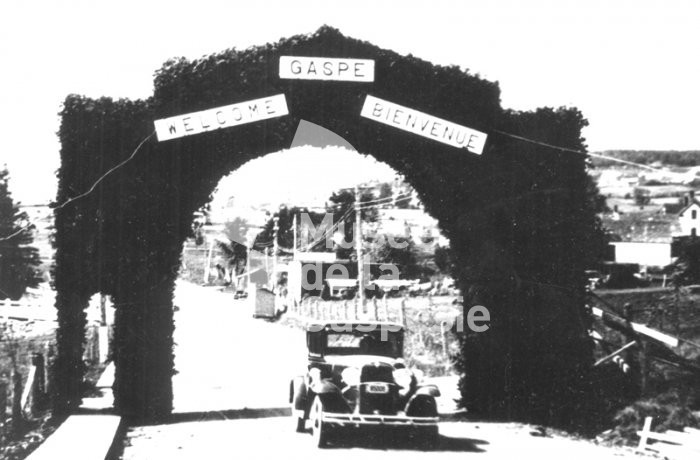 The 400 anniversary of Jacques Cartier's Arrival.
Visited: 186 times
Order
1934. - Photography taken during the celebrations of the 400th anniversary of Jacques Cartier's arrival in Gaspé. The historical Jacques Cartier, French explorer and navigator (1491-1557). In 1534, he made a first voyage in the name of the King of France in order to "discover certain islands and countries where it is said that he must find a large amount of gold and other richnesses". Leaving Saint-Malo on April 20, 1534, he crossed the Atlantic and skirted the coasts of Labrador, Newfoundland, Prince Edward Island and New Brunswick. In Baie-des-Chaleurs, he met the Micmacs, with whom he traded European products for furs. During a storm, he takes refuge in Gaspé Bay where he meets a second indigenous group, the Iroquois of the St. Lawrence. On July 24, 1534, he erected a cross at Gaspé, thus officially taking possession of the territory in the name of the King of France, despite the protests of Chief Donnacona. On July 25, he resumed the sea with two of the Iroquois chief's sons on board his ship. Jacques Cartier will then lead two more exploratory trips to the St. Lawrence region in 1535-1536 and 1541-1542. Mandatory reference: C.S. Viator, "History of Canada", Montreal, Clerc of St-Viateur, 1915, p. 11. Library of the Gaspésie Museum. 971.002 V622h. For more information: Alain Bernard, "Mi'kmaq and French in search of alliances." The Mi'kmaq meet Jacques Cartier "Magazine Gaspésie, 2004, no. 150, p. 12. Mario Mimeault, "Was there a priest with Cartier?", Magazine Gaspésie, no. 165, 2009, p. 21. Martin Mimeault, "The story of Jacques Cartier's voyage in 1534, a writing dictated by the mission", Magazine Gaspésie, no. 164, 2009, p. 16.
Reference :
Musée de la Gaspésie. Collection Marguerite Patterson. 84.39.212.